Things To Do Near Cabo Matapalo, Costa Rica
Costa Rica is a beautiful, tropical paradise nestled between the Atlantic Ocean and the Caribbean. Tourists frequently find the volcanoes, beaches, and bustling cities as prime locations to visit during their stay. While these are popular destinations, Costa Rica has a hidden gem on its southern coast, Cabo Matapalo.
Though Cabo Matapalo is more remote than the other regions of the island, this creates lower prices and an experience that is not flooded with other tourists. Many people describe staying in Cabo Matapalo as a way to stay off the grid and find the raw wilderness as an experience all to itself. Though it is not necessary to camp one certainly can.
Our Casa Dulce Vida report is located right by the Corcovado National Park and is surrounded by Costa Rica's luscious jungles where it is excellent to see the local wildlife. From your balcony, you will be able to see all four types of monkey's that are native to Costa Rica. Though the monkeys are an exotic sight for many tourists, you can almost always hear a symphony of birds, which adds to an experience that will likely live in your mind for years to come.
While it is fantastic to see the area on your own, guided tours of the jungle can result in finding a rare anteater or a family of macaws. In addition, guided boat tours can introduce travelers to wild dolphins and offer a unique experience from most other tourist destinations in Costa Rica.
For those who want a bit more excitement when it comes to their vacations, Cabo Matapalo also offers high platform, jungle zip-lines that can make you feel like you are flying through the Costa Rican rainforest. After you are finished gliding through the canopy, you can try out the waterfall rappelling course, and relax in a jungle lagoon.
Once you have decided that you want to get away from the admittedly small number of people, you might be interested in exploring the Corcovado National Park. This wildlife refuge spans almost half of the Osa Peninsula and is home to the highest percentage of Costa Rican jaguars. Due to safety concerns, you can only visit the park under the care of tour guide. They will be able to show you the best places to view exotic animals and ensure that you stay away from any other the toxic snakes or otherwise dangerous creatures that live in the jungle.
By renting a kayak, travelers can also paddle their way through the vegetation filled waterways and experience the jungle from a different perspective. This is an excellent way to travel to some of the local villages and get a better sense of how others live on this beautiful island. Local markets offer great prices for fish and other foods to taste on your stay.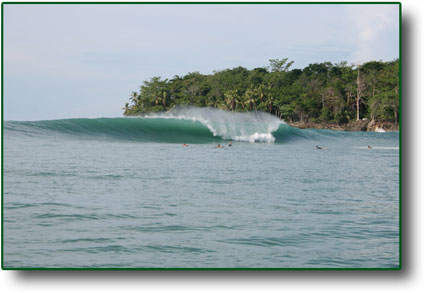 Since Cabo Matapalo is located on the Osa Peninsula, it is within convenient distance to Puerto Jiménez, which is the closest place to an actual city in the region. If you are interested in more of a shopping experience, it would be worth the trip to spend a day checking out their market. Due to the competition, you can find affordable lodging and dining within the city limits. There are also several travel agencies that can help arrange kayaking and other tourist types of activities.
Cabo Matapalo also offers fantastic surf along the toe of the Osa peninsula's boot. While it might not be ideal for a beginner, many professional surfers make it a point to travel to this beautiful paradise in order to catch some of the best waves that Costa Rica has to offer. If want to take some time away from the beach, the nearby rain forest is known to host families of sloths and is another great place to view all of Costa Rica's species of monkeys.
For those who are interested in the region's rich history, Dos Brazos is a former gold mining village that is now primarily geared toward sugar cane production. Gold can still be found in the nearby creeks and offers tourists a chance to find a valuable keepsake from their trip. Travelers can also lose all modern attachments by spending a night in the Bonita Rainforest Hotel. It shows guests how to live without electricity or running water, and can help a traveler reconnect to a simpler time.
The western side of Cabo Matapalo is dominated by several winding creeks and rivers that shift the coastal landscape into gorgeous swampland, despite the humid conditions, mosquitoes are not native to the region, so you do not have to worry about the annoyance of those pesky bugs. This is one of the best places to view the areas birds and boat tours can be used to explore the area for around $80 per person.
Though it is true that Cabo Matapalo requires either a domestic flight or about an hour of extra driving time, the remote region more than pays for this little inconvenience. By driving along the winding dirt roads, you are slowly transitioned into a world free of the touch of urban tourism and you can really experience life in Costa Rica. A trip to Cabo Matapalo is perfect for those who are on a budget, those who want a little more peace to their vacation, or for those who want to have an experience that little others have had.